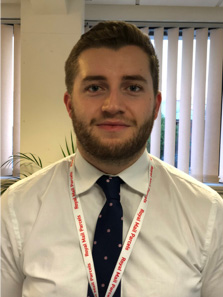 Name, Age and Job Role
Harrison Leigh – 22 – Account Manager
Which type of Apprenticeship are you doing or have you completed?
Business 2 business professional sales degree – Higher (level 6)
Who do you work for and what do they do?
I work for royal mail, we are the oldest postal delivery network in the world, but in the modern day we are diversifying into a parcel delivery service while still delivering your mail.
Why did you choose to become an apprentice?
I chose to be an apprentice because it allows me to earn while I learn. Getting the degree paid for is a big pulling factor as well.
What does your day in your work life involve?
It involves looking after a portfolio of customers, while also selling new products and services
What do you enjoy and what is the best thing about being an apprentice?
The best thing about being an apprentice is the fact you're getting paid to do education, and the thing I enjoy the most is learning from the ground up your knowledge on a new area of work.
What are your career plans and what would you like to be doing in 5 years' time?
My career plans are to be in management positions within 5 years. In between that I hope to move into on the road sales and then further up the business
What is your greatest achievement?
My greatest achievement for me was getting qualified to be a ski instructor and go and work the ski season in Canada for 3 years. I set myself that goal when I was 16 and to achieve that dream at 18 was a massive achievement for me.
Give us one fun fact about yourself!
Due to a skiing accident I have a titanium rod through my right femur.
What is the best piece of advice you would give to someone thinking about becoming an apprentice?
Do it! You have nothing to lose but an awful lot to gain. Companies are after experience these days more than education. But education is still vital. So why not get both at the same time.