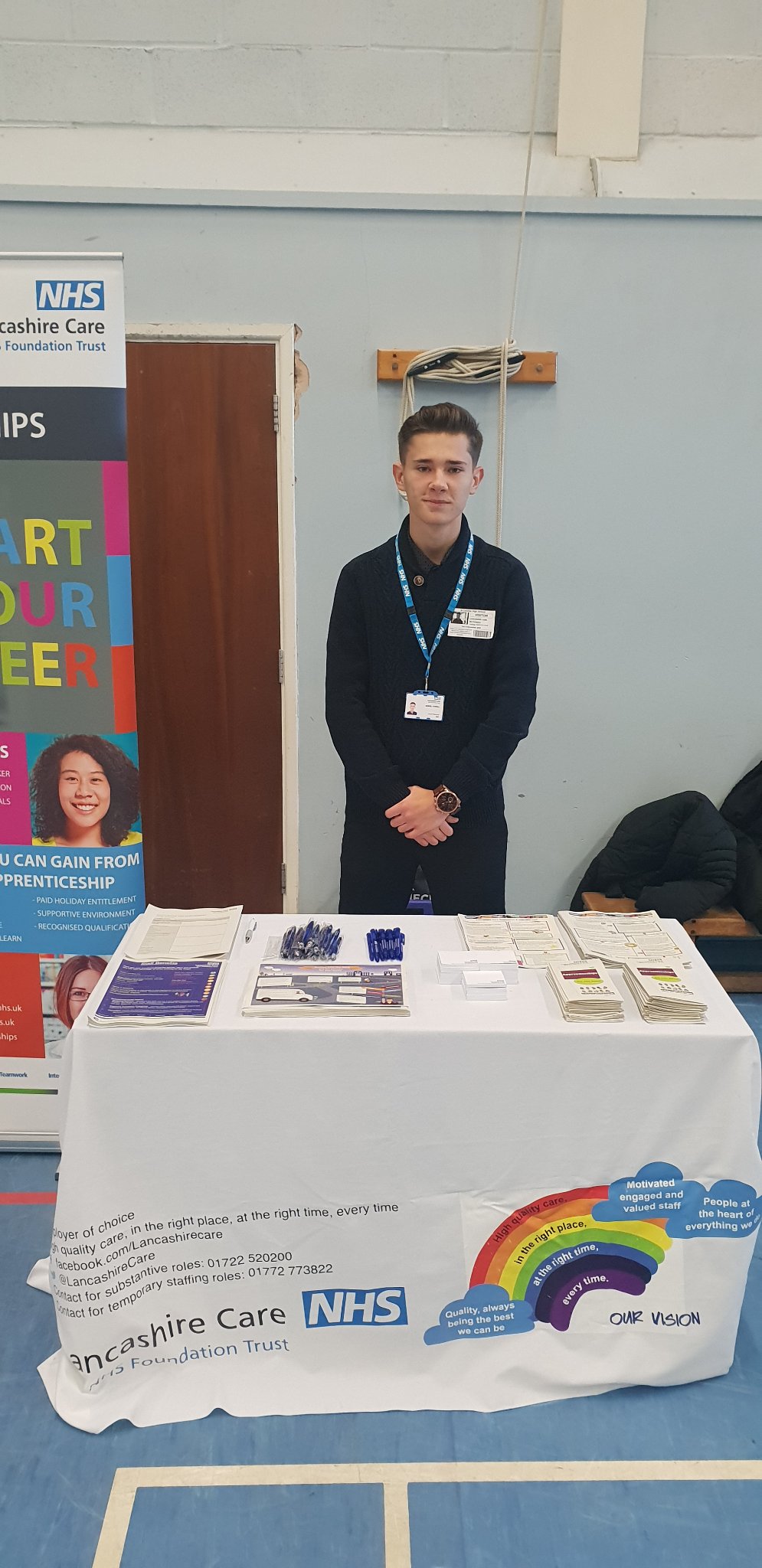 Name, Age and Job Role
Samuel Cowell – Age 17 – Vocational Learning Apprentice
Which type of Apprenticeship are you doing or have you completed? 
Currently undergoing a Business Administration Apprenticeship
Who do you work for and what do they do?
Lancashire Care Foundation Trust (LCFT) Promote Apprenticeships
Why did you choose to become an apprentice?
I chose to become an Apprentice because the idea of working and learning at the same time appeals to me. When I'm in the working environment I feel a part of something. That; and learning at the same time.
What does your day in your work life involve?
During my day at work I work with Microsoft Excel, Word and Publisher etc. I am also responsible for writing emails, managing social platforms and managing staff on ESR
What do you enjoy and what is the best thing about being an apprentice?
The level of support that I am receiving through the Apprenticeship is the best part. I feel I have been included throughout every area of the workplace.
What are your career plans and what would you like to be doing in 5 years' time?
I haven't really got any concrete plans as of yet, I am keeping my doors open. However, I would ideally like to stay as part of the LCFT team.
What is your greatest achievement?
The greatest achievement in my life would probably be getting the job at Lancashire Care. It was a huge achievement to me and hopefully it is the start to a very successful career.
Give us one fun fact about yourself!
I am a football player in my spare time and a bit of a singer too! I auditioned for X Factor last year and was successful, however due to circumstances I couldn't make it to the live audition.
What is the best piece of advice you would give to someone thinking about becoming an apprentice?
Go for it! You won't regret it. A lot of young people are unaware of what they want to do when they finish their time at high school, it can be very daunting for some. It is often you see that a young person goes to college because everyone else is. Young people just need a bridge to ascend from childhood to adulthood. Apprenticeships are 100% the way forward. Earning a salary, learning skills in the work environment and studying at college occasionally is perfect route to go down. Once you have landed in an apprenticeship that is one foot in the working door. If you play your cards right, you may be set for life.