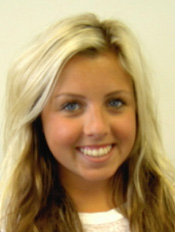 Name, Age and Job Role
Natalie White, 22, Early Careers Advisor
Which type of Apprenticeship are you doing or have you completed?
Business Administration Level 3 & 4
Who do you work for and what do they do?
I work for the National Nuclear Laboratory, a UK Government owned organisation that provides technical support to the nuclear industry. We play a key role in the UK and global nuclear industry. That means reducing the cost of clean-up and decommissioning, maintaining critical skills and attracting talented new people to the industry. We're the only UK organisation with the skills, facilities and expertise to provide technical support to all aspects of the nuclear industry.
Why did you choose to become an apprentice?
When I was at secondary school I was unsure of what I wanted to do in my career. When I was in Year 10 I completed a week's work experience in the Human Resources team at the NNL, which gave me an insight into what human resources involved, and as a people person I actually really enjoyed the week and even completed more experience during the summer holidays. I knew that once I left school I didn't want to continue onto college, whilst I achieved really good GCSE's (1 A*, 8 A's & a B), studying behind a desk full time just wasn't for me so I looked into apprenticeships as this offered me the opportunity to learn in a full time role and gain real life work experience.
What does your day in your work life involve?
My role is extremely varied and that's why I love what I do. As an Early Careers Advisor every day is based around people. My day can be spent in the office speaking to people on the phone, engaging with schools & universities, shortlisting applications and creating future strategies for our early careers recruitment. I could also be attending events at schools or universities talking to students about careers in the nuclear industry, interviewing candidates for new apprenticeships or graduate positions or visiting our sites to check on the progress of those currently on a programme with us.
What do you enjoy and what is the best thing about being an apprentice?
I enjoy the fact that every day is different and it gives me a variety of opportunities and experience. The best thing about when I was on my apprenticeship was the opportunity to gain experience in an exciting industry whilst also gaining my qualifications at the same time. Even though I didn't see myself studying for a degree when I left school and started on my apprenticeship, I am now in the last few months of finishing my Business Hons Degree which has given me a vast knowledge of how a business works not only from a Human Resources perspective, and the benefit of this has been that this has all been paid for by the Company!
What are your career plans and what would you like to be doing in 5 years' time?
I aim to finish my degree in summer 2018 and will consider if there are any further studies I want to complete. I will continue to build on my experience in the business, taking on more responsibilities and continue to keep learning for my personal development. I will be supporting a UK Government led initiative for the nuclear industry on the future of Early Careers and this will be a fantastic opportunity for me to build my network and showcase my potential. In five years' time I hope to be leading on the early careers programmes for the NNL, providing training programmes that will help develop young people. I also want to continue with my volunteering with local schools and colleges to support young people with career guidance, as this is something I feel is invaluable for helping people make the right career choices, as often people don't know what is out there until you find out and this was exactly true in my case.
What is your greatest achievement?
My greatest achievement to date is winning a UK national skills award for nuclear as 'Foundation degree student of the year'. As part of the process I was put forward by my employer for the award and had to complete an interview and presentation as part of the assessment process. I was extremely shocked to be awarded this, particularly in competition against apprentices from large organisations such as BAE Systems, but was awarded for my work in developing early career programmes for the nuclear industry. For me this was a fantastic achievement for me to be selected for a national award, and something that has again opened up networks and opportunities for me.
Give us one fun fact about yourself!
Since the age of 3, I have spent my spare time at a dancing school learning ballet and contemporary dance. I achieved all of my grades just before teacher level for ballet.
What is the best piece of advice you would give to someone thinking about becoming an apprentice?
If possible, try and get a week's work experience or even a day's insight shadowing somebody in that career as it will give you an opportunity to see if this is something you enjoy. You spend so much of your life at work, so it is so important you enjoy what you do!